Description
REDUCE FRICTION AND SAVE COMPONENT WEAR
UHMW Draw Bar Savers for your draw bars and hitches have slick properties for durability and wear resistance.
Stacking may be used to achieve the desired thickness for your application.
PIN SIZING CHART
TRACTOR DRAWBAR CATEGORIES AND PIN DIAMETER
4" OUTSIDE DIAMETER
6" OUTSIDE DIAMETER
CUSTOM SIZES – 4" O.D.
CUSTOM SIZES – 6" O.D.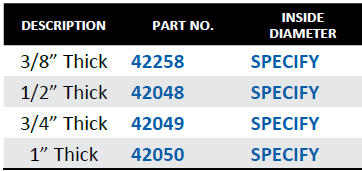 Custom sizes available. Call Us.
For prices on our products please call (306) 586 – 5711