Description
Keep more bushels in your machine with the new Snap-On Quick Finger.
Its unique 5 finger design aids in feeding short or specialty crops more consistently and evenly. Designed for use in soybeans, wheat, canola, chickpeas, lupins, and flax. Our quick attach design easily slips over the existing finger quickly and securely allowing you to save time and money when it matters most.
• Fit one over every second finger
• Offset placement on each consecutive bar
• Set header reel to position 1
• Designed to go over JD part # HXE96538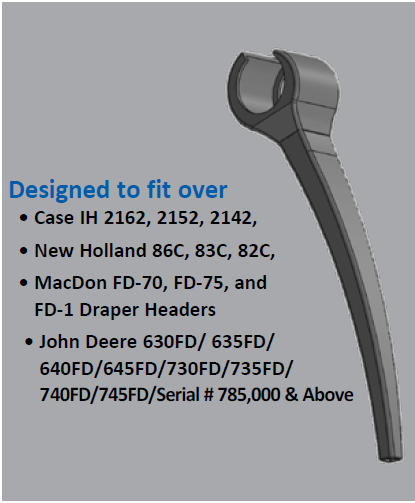 HEAVY DUTY CONSTRUCTION
Easily slip over your existing finger attaching directly to the bar. Unique aggressive design helps feed short or specialty crops with ease.
• Unique design attaches directly over existing mounted finger.
• No tools needed for installation.
• Strong, heavy-duty construction
• Cost Efficient
• Designed to go over JD part # HXE96538
For prices on our products please call (306) 586 – 5711